Latest News
MVDO Fall 2022 Registration Information
(7/20/2022)
You can register for the Fall 2022 season which begins the week of Aug. 15 in one of the following ways:
Download the registration form below and mail it to the MVDO address on the form. Make sure you include a check or money order for your teams membership dues ($20 per player) unless your bar pays your membership dues. The deadline for mail-ins is Thursday Aug. 11.
Email Dave Madison with all the required information - bar name, captain name, address and phone number and all the players on the team, desired night of play and desired skill level. If you email you are still required to send in your team dues or get them to an MVDO Board member. The deadline for email-ins is Thursday Aug. 11.
Download Registration Form here.
At this time there will not be a pre-season's captain meeting. We will hold a rules and regulations meeting at some point during the season to discuss potential rule and procedure changes. There will no longer be packets to be picked up prior to the season. All the information needed and score sheets are available on the MVDO web site. Each captain will receive an email with links to all needed information and score sheets for them to download and print out if needed. If you do not have access to a printer to print out score sheets or anything else you may need, contact web master Dave Madison or Chuck Solinski and they will make arrangements to get you what you need.
---
Summer 2022 - Blind Draw Tour - Finale
(7/22/2022)
The finale for the Summer Blind draw tour will be Saturday Aug. 13 at Hotshots-Fenton. There will be an A, B and C singles event followed by the $1000+ added finale draw. Then there will be one more regular blind draw after that. See the flyer in the tournaments section for the exact details.
There are two tournaments left to get qualified for the finale. The schedule is listed here and also can be downloaded here - Summer Tour Schedule. The standings are posted on the Mississippi Valley Darting Organization's Facebook page.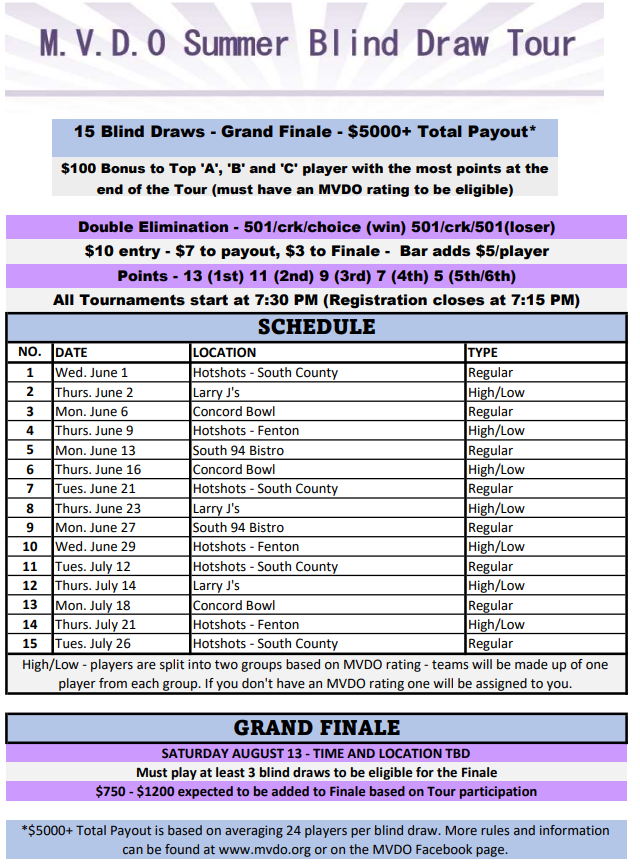 ---
New Fall 2022 - Handicapped Divisions on Wednesday nights!
(7/22/2022)
The MVDO will have handicapped divisions on Wednesday nights starting this Fall. Teams can consist of any combination of A, B and C players. It doesn't matter because matches will be handicapped based on the MVDO rating of who is playing in the match. All registered teams will be randomly placed in divisions of 4, 6 or 8 teams. The format will be Team game 1001, 2 sets of Spanish Doubles, 2 sets of 501 doubles, 2 sets of cricket doubles and 4 singles matches of best of 3 501. As normal, the visiting teams will write down their players each match and the home teams will decide who plays who. The players in the match will determine the amount of handicap given. In 01 games the lower player/team will start the game at a lower number. For instance in a singles 501 match between a 250 player and a 150 player the 150 player will start at 401 while the 250 player will start at the normal 501. In a doubles 501 if you have a 298 playing with a 120 their total is 418. If they are playing against two players that are a 198 and an 80 their total is 278. Thats a difference of 140 points in rating so the lower team would start 401 and the higher team at 501. The same concept in cricket with marks given to the lower team depending on the ratings difference. A chart showing the handicaps will be displayed on the web site and emailed to all the captains.
The handicapped divisions will have their own city playoffs and receive their own City Championship trophy if we have a good turnout of teams, i.e. more than one division of teams.
---