Latest News
MVDO Spring 2022 City Playoff Results
(5/28/2022)
Congratulations to all the winners

Open Team Championship
Topshooters (Thom Messmer) - Open Team Champion
Concord Lanes (Vito Viviano) - Open 'B' Team Champion

Open Doubles Championship
Dupo American Legion (Steve Stone) - Open Doubles Champion
Dupo American Legion (Steve Stone) - 'B' Doubles Champion

Open Cricket Championship
Concord Bowl (Jim Herget) - Open Cricket Champions
Larry J's (Bob Kempen) - Open 'B' Cricket Champions
Dylans (Jason Lynch) - Open 'C' Cricket Champions

---
Summer 2022 - Blind Draw Tour - Updated with Schedule
(5/28/2022)
Since the Spring season started a month late due to Covid, there will not be a Summer season once again. But the Fall season will start at normal time (early August) and for 2023 and moving forward we expect to return to a normal Spring, Summer and Fall season schedule.
But there will still be plenty of darts to play. The MVDO will run a Summer Blind Draw tour - OPEN TO ALL PLAYERS whether they played MVDO before or not. There will be two blind draws a week for the months of June and July. These will be alternating regular and high/low double elimination blind draws with $5 per player added by the host bar. $10 entry with $7 going to the night's payout and $3 going into a Finale pot. There will also be a point system with players earning points for participation and how they finish. Players will receive 13 points for a first place finish, 11 points for a second place finish, 9 points for 3rd place finish, 7 points for a 4th place finish and 5 points for a 5th/6th place finish. Everyone will receive at least 1 point just for playing. There will be a big finale Tournament on Saturday Aug. 13 - time and location still to be determined. The finale tournament is open to all players that play at least three (3) of the Blind draws over the summer.
$100 BONUS - ALL PLAYERS are welcome to play in the blind draws. However for established MVDO players - anyone that has an MVDO rating because they played at least one MVDO league at some point - there will be a $100 bonus given to the A (220-299), B (120-219) and C (119 and below) players with the most points for the Tour at the end of the tour.
The tournaments start next week - Wednesday June 1 at 7:30 pm at Hotshots - South County. The second one is Thursday June 2 at Larry J's. We hope everyone comes out and has a great time. These tournaments will be a great opportunity to meet other MVDO players and form teams or to bring in new players to show them the world of darts and the MVDO. The Tour standings will be updated weekly and posted here on the web site and and Facebook. The schedule is posted here but can also be downloaded here - Summer Tour Schedule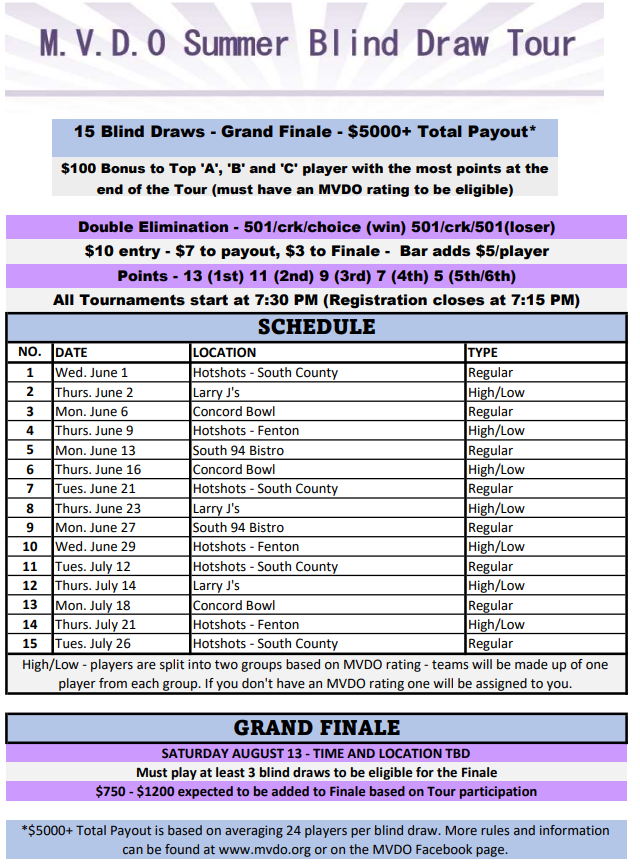 ---
Coming Fall 2022 - Handicapped Divisions on Wednesday nights!
(5/8/2022)
At the suggestion of an MVDO member the MVDO Board discussed having handicapped divisions and thought it was a great idea. Details will be out in the next few months but on Wednesday nights in the Fall the MVDO will accept registration for a handicapped league. Basically it will allow players and teams of different skill levels to compete on an equal playing field. If any of you have played handicapped leagues in soft tip it will work in a similar fashion. As mentioned more details will be released this summer.
---